Hairstyles for High Neckline Dresses: Showcasing Your Neckpiece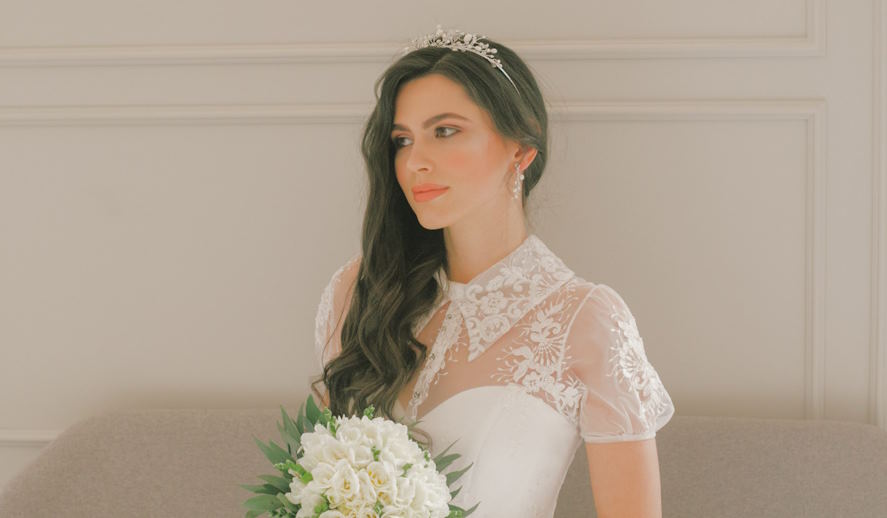 The realm of fashion is a playground of creativity, offering a myriad of opportunities to express oneself. High neckline dresses, with their graceful silhouettes and chic designs, have become a favorite choice for those seeking a touch of refinement in their wardrobe. However, the allure of a high neckline extends beyond the dress itself; it's a strategic canvas that can elegantly display statement necklaces and pendants. To harness the true potential of this pairing, it's essential to master the art of pairing the perfect hairstyle with the dress's neckline.
Hairstyles that Complement High Necklines
High neckline dresses exude an air of elegance and grace, and the right hairstyle can elevate their impact even further. Whether you're donning a classic turtle neck or a sophisticated boat neck gown, the right hairdo can beautifully enhance the dress's neckline and provide the perfect canvas for showcasing your neckpiece. Here are some exquisite hairstyle options that harmonize flawlessly with high neckline dresses:
Updos and Buns:
Classic Chignon: The timeless chignon, a sleek low bun at the nape of the neck, exudes sophistication. It elegantly highlights the neckline while drawing attention to your accessories.
Messy Bun with Loose Tendrils: This relaxed bun adds a touch of whimsy to the structured neckline. Loose tendrils framing your face soften the look, creating a delicate balance.
French Twist: Perfect for a formal event, the French twist exudes poise. Its sleekness complements the high neckline, allowing your neckpiece to shine.
Half-Up Hairstyles:
Half-Up Half-Down Curls: This romantic style combines cascading curls with a half-up twist, adding volume and creating a graceful contrast with the dress's neckline.
Braided Half-Updo: Braids interwoven into a half-updo exude charm and elegance. The interplay of texture beautifully complements the dress's design.
Twist-Back Hairstyle with Volume: A chic twist-back reveals the neckline while adding volume to the crown. This style is both contemporary and sophisticated.
Sleek and Straight Looks:
Polished Straight Hair: Center or side-parted, sleek straight hair exudes a modern vibe. Its clean lines accentuate the dress's neckline effortlessly.
Low Ponytail with Sleek Texture: A low ponytail, when styled sleekly, draws attention upward, enhancing the high neckline's allure.
Side-Swept Styles:
Side-Swept Curls: Elegant side-swept curls create a romantic aura, adding softness to the dress's structure.
Side-Swept Low Bun: This modern twist on a classic bun brings a contemporary touch to the ensemble. Its asymmetry complements the high neckline's uniqueness.
Statement Accessories:
Choosing the Right Neckpiece: Select a neckpiece that resonates with the dress's neckline—whether it's a delicate pendant or a bold statement piece.
Coordinating Accessories: Harmonize your earrings, bracelets, and rings with your chosen neckpiece to create a cohesive and balanced look.
Balancing Hairstyle and Accessories: Ensure your hairstyle doesn't overwhelm your accessories. Create harmony by allowing both elements to shine without competing for attention.
Consideration of Dress Material and Event Type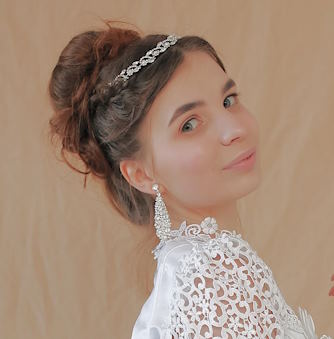 Selecting the ideal hairstyle to complement your high neckline dress isn't just about the neckline itself—it's also about understanding the dress's material, texture, and the nature of the event you're attending. Here's how to navigate these considerations for a perfectly harmonious look:
Different Hairstyles for Formal vs. Casual Events:
For formal occasions, such as black-tie events or galas, opt for sophisticated updos like the classic chignon or a sleek French twist. These styles exude elegance that aligns with the event's ambiance. On the other hand, casual events allow for more versatility. Consider soft waves or a chic low ponytail for a relaxed yet stylish appearance.
Matching Hairstyles to the Fabric and Texture of the Dress:
The fabric of your dress plays a pivotal role in dictating the hairstyle. If your dress boasts intricate patterns or textures, consider an updo to ensure those details are visible. For dresses with rich embellishments, sleek straight hair can create a clean backdrop, allowing the dress to shine.
Incorporating Hairstyle and Dress Style for the Event's Atmosphere:
Harmonizing your hairstyle and dress style with the event's atmosphere is key. If you're attending a romantic outdoor wedding, consider a loose bohemian braid to echo the setting's whimsy. For a sophisticated art gallery opening, a polished updo complements the refined atmosphere.